Our Capital Campaign
UU Falmouth Capital Campaign
"Coming Home and Living Our Values"
The Governing Board, Pandemic Task Force and Building Task Force have researched the best way to create a safe environment for all of us to join together, once again, at our Meeting House. They acquired the information needed to steer us to a sustainable future for our meeting house.
And we are all in.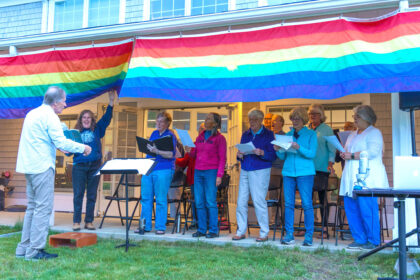 In fact, before the actual campaign began, members had already contributed more than $70,000.
In preparation, the Minister and the Board brought together members who have committed to lead this effort. They are the Capital Campaign Steering Committee with five members strong. This loyal group has been working in the background, for several weeks. In addition, they have hired a consultant who has successfully worked with other UU congregations on as many as 15 Capital Campaigns.
Our Goal
To raise a total of $400,000; $250,000 through charitable donations, obtain a grant of $50,000 and secure a loan of $100,000
To create a safe and healthy environment by replacing our existing gas- powered system (that is well beyond its lifespan and is not functioning) with an efficient electric system that has top-of-the line anti-viral humidification and filtration
To install a zoned system of heating and cooling that will enable all spaces in the meetinghouse to be equally comfortable
YOU can be a part of this endeavor!
How? You can welcome one of our member volunteers when they call on you to share the exciting news of how we can all "Come Home" once, again.