Welcoming Congregation
UUFF is a Welcoming Congregation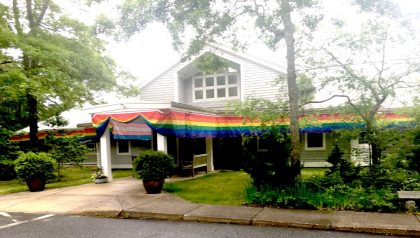 The UUFF is a Welcoming Congregation, having made a commitment to include, support, and celebrate our LGBTQ+ community. We were first certified as a Welcoming Congregation in 2002, a process which is now done annually. Our Welcoming Congregation Committee seeks to affirm this commitment in tangible ways, through education, advocacy, and action.
Over the past few years some of the things we have accomplished are:
Created a gender neutral bathroom and inclusive signage on two other existing bathrooms.
Provided programming on LGBTQ+ topics through sermons, guest speakers, and movie/discussion nights.
Donated to local organizations such as Thrive (CIGSYA), Cape Cod Pride Festival, UU Brewster GAYLA Ball, and Yes on 3.
Added a LGBTQ+ section to our library, a bulletin board, and regular updates in our church newsletter.
Wrapped the entire meetinghouse in a gorgeous rainbow banner for Pride month.
We recognize that the work is never done and welcome suggestions, ideas, and new members to our committee. Phone the UUFF Administrator at (508) 457-044 who can put you in touch with us.