Getting Involved at UU Falmouth
Sunday Service is held at our UU Falmouth Meeting House. The Service will also be offered on Zoom at the regular login. Coffee Hour takes place after the Service and on Zoom. Check this month's Sandscript, listed on the Communications page, for specifics.
To Join via Zoom email admin@uuffm.org for info
Monday – Wednesday – Thursday – Friday, 9 – 2 PM.
---
The UUFF Meetinghouse is a very active place throughout the week.  The goings-on include committee meetings, volunteers supporting our Fellowship, and Adult Activities that offer a chance to relax and connect with others in the congregation.  All members and friends are encouraged to jump in and get to know other members of our community.  Our network of activities and efforts makes us who we are.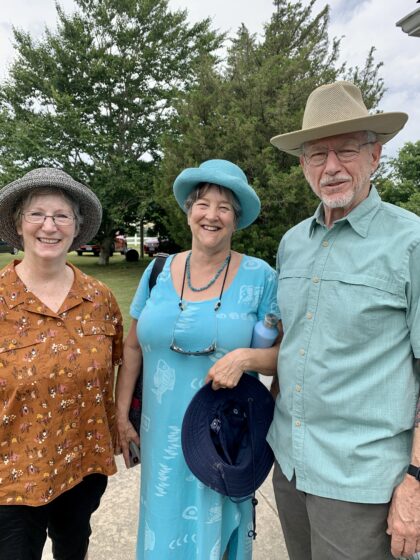 Volunteer Options
If you are new to UU Falmouth or are looking for a new way to connect, here is an updated list of options from our various groups. Feel free to contact someone in the group if you are not sure of a fit or would like help.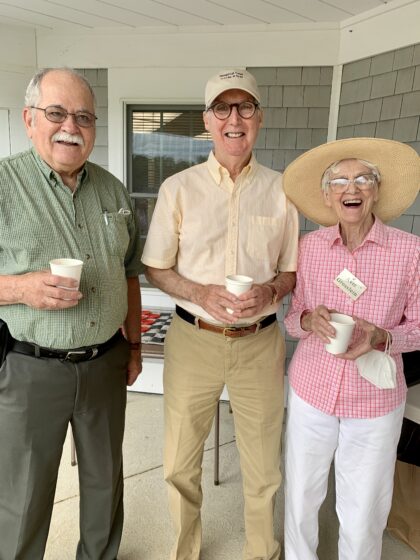 The Caring Committee has as our mission to try to lessen the challenges that come with a family illness or accident and to lessen loneliness.  We also assist with memorial services and provide food or other needs for celebrations, collaborative events and whole congregation gatherings.   We are sending cards, getting little token gifts out, and when possible, providing hospital and home visits.  This group also provides rides to important medical visits when possible.
We have a Visiting program to help members who are home bound and provide comfort with these social visits to look forward to. The Visitor program routinely calls shut ins at least once/month and these calls are designed to be social connections.
Fellowship Groups provide small intimate group meetings twice/month to discuss an agreed upon topic in a supportive and confidential space.  These are great for really getting to know fellow group members and often are the best connectors for new and revisiting friends and members.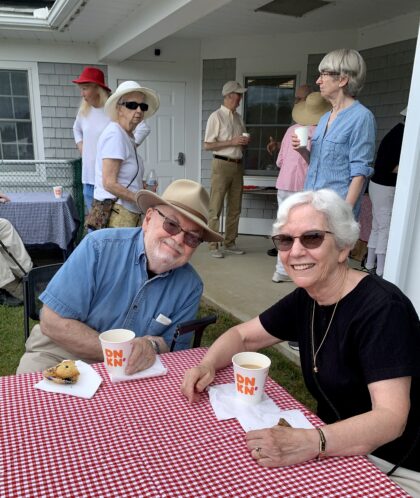 Lay Ministry are individuals who are trained for at least 3 months to provide pastoral visits to individuals in hospitals, nursing homes or home bound.  These visits are an extension of the Minister's Pastoral work and are trained in skills like "active listening".  Right now, the Visiting program and the Lay Ministry are working together to provide care.
Partners in Grief is a small, group choosing to meet to support each other on their journeys.
As you can see our work is varied and can easily be done from your home and at a variety of dates or times.
Welcoming Congregation Committee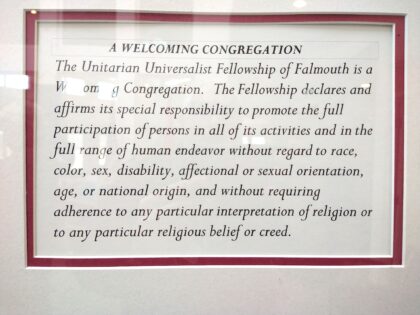 The Welcoming Congregation Committee promotes LGBTQIA+ awareness and inclusion through education, advocacy, and action. WCC activities seek to increase understanding of LGBTQIA+ issues within UU Falmouth, as well as offer outreach, support, and connections with local LGBTQIA+ organizations, groups, and other welcoming churches.
The Development and Finance Committees meet via Zoom at this time. Each committee is a good place to get to know others by working together – we even have fun and laugh a good bit.
Finance supports the Governing Board by reviewing financial reports and financial policies.  We don't require accounting experience – just understanding numbers and arithmetic is all you need.
Development encourages generosity among our members and friends – this is a good place for creative thinking. The two committees work together to keep our Fellowship financially strong.  There is no requirement of financial experience, just a love for numbers and community.
Membership Committee
Our mission is fourfold: to welcome visitors and newcomers to the Fellowship, to help newcomers learn about the programs and activities of the Fellowship, to facilitate the integration of new Friends and Members into the life of the Fellowship and to encourage new Friends to become Members of the Unitarian Universalist Fellowship of Falmouth.
Our efforts have been challenged by the closure of the Meetinghouse during the pandemic, BUT we are finding creative ways to fulfill this mission thanks to technology.
Religious Services Committee
In conjunction with the Minister and Music Director, the RSC plans, coordinates, and evaluates all aspects of the Sunday Service. In addition to the four RSC Committee members, the Committee has a pool of volunteer Readers to read selected readings during the service, and volunteer Service Associates to assist in leading a service with guest ministers and speakers. Now in the virtual service world, the RSC along with additional volunteers, serve as Zoom Assistants during Sunday service.
If you have interests in giving input to and/or participating in Sunday services, the RSC or its volunteer pools could be a place for you! If you're more of a "behind the scenes" person, our pool of Zoom assistants could be a good fit for you!
The Social and Enviromental Action Committee engages in activities to support the community and the membership and friends of UUFalmouth. We have recently developed 3 priorities: Reduce Our Carbon Footprint at Home, Support Upper Cape Food Security and Standing in Solidarity with the Wampanoag Tribe.  Our other efforts may be related to health care, education, senior citizens, legislation and racial justice/diversity and inclusion.  We would welcome anyone with interests in these or other social action issues to participate in any one (or more) of these efforts- whatever interests you.
Communications Committee
This small group is perfect for people who just like to do their bit and not spend too much time in meetings. We are the ones who keep our website, uuffm.org, up to date. We also look after our congregation's Facebook page. Once in a while we run an ad in the local media. It's really just different tasks that can be done with very little, or only a little tech skill.
If you like to write, we are your committee, but that's not a requirement. We'd love to have you join our Communications team and will be happy to show you how to contribute to this important effort.
Music Committee
The music committee is not just for singers but lovers of music by supporting the choir behind the scenes. Now that music is virtual it may also involve technical support and creativity to utilize all that technology can offer our music program. Other music committee volunteer opportunities are for sorting, filing, and occasionally copying music. We'd love to hear from you if any of these tasks are of interest to you.
Tending Our Meetinghouse
Art Exhibits are displayed in the Meetinghouse entry and are changed every 2 months. We welcome suggestions, referrals and names of area 2-D artists to show their work in our Lobby Gallery.
Flowers group is hoping to get enough volunteer interest to supply flowers for each service. It also offers volunteer opportunities for seasonal and holiday decorating of the Meetinghouse. If there are gardeners interested in planting outside the Meetinghouse, a group will be arranged to meet the interests and availability of those interested. If flowers, decorating and gardening are fun for you, join us.
Building and Grounds is the committee who take care of the building, surrounding grounds and the Memorial Woodland. We seek men and women who are interested in the maintenance of our facilities both inside and out. Most of the physical work is carried out by a Sextant, building cleaners and contractors. We need those care about building preservation and upgrade, organizing or being part of a crew and even someone who could help with minutes of meetings and record keeping.
Technology is responsible for all networking and IT in the Meetinghouse. We are interested in volunteers who have expertise in new technology.
Social Connections
Sometimes social connections are what we need most. We have groups that have been zooming for months and offer friendship and connections for our Fellowship during this challenging time of being apart. We will also have groups that will start up again when we are all back together at the Meetinghouse. We are welcoming and are hopeful for 2022! Join us!