Holidays and Celebrations
We celebrate religious diversity and the seasons of the year through our annual calendar of celebrations and observances.
September: We begin our church year with Water Communion bringing waters from our summer experiences to pour into a common bowl. This represents how our many lives create one community.
November: We take time to cultivate a deeper spirit of gratitude for all that is our lives in our Thanksgiving service.
December: An opportunity to enjoy many Happy Holidays! We often recognize Hannukah in honor of our many Jewish members and friends, as well as the Winter Solstice and Christmas Eve.
January/February: It lightens the mood of these dark days to hold a Blessing of the Animals. This is a joyous tradition that celebrates the love that our animal companions bring to us.
February: Around Charles Darwin's birthday we celebrate the importance of curiosity, scientific inquiry, and critical thinking with a Sunday designated as Darwin Day.
The Spring season brings several opportunities for celebration: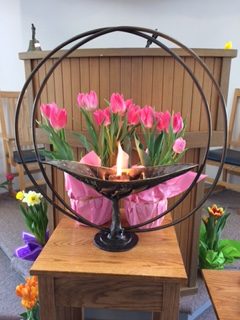 Easter Sunday
Passover Seder – hosted for the larger fellowship by our Jewish members
Earth Day – an important observance for us as part of our commitment to environmental justice and to being a Green Sanctuary.
Flower Communion – We gather and share flowers during service as a way to celebrate our faith's diversity. This custom originated with Czech Unitarian minister Norbert Capek, who died in the Nazi death camps as a conscientious objector.